Zabbix 6 LTS Monitoring: Platform as a Service ("PaaS")
Monitoring is an essential function of any IT department to enhance reliability & performance.  But sadly, monitoring systems become an end in themselves occupying undue amounts of staff time to administrate them rather than improve the revenue generating systems they monitor.
Free your expensive SysAdmin staff's cycles from the grunt work of maintaining & supporting a monitoring service to enable them to advance the business' tactical technology objectives with F1Linux's Zabbix Monitoring PaaS. Please note the F1Linux configures SNMP v3 by default where the devices support the more secure protocol.
Zabbix PaaS Service Features & Benefits:
Get the latest LTS version of Zabbix installed quickly
SNMPv3 connectivity configured for supported servers & devices
Solution installed, maintained & supported by a Linux & Network Engineer w/ 20+ large enterprise experience
Supplied Hardware: 64 bit ARM Linux host, (4) TB RAID 1 storage appliance, 8 port PoE+ switch & UPS
Separate, standardized equip ensures Zabbix is insulated from faults it monitors
(5) SNMP Device Configs/Month: switches, APs, routers, servers, storage, VOIP, IP cams
(5) Support Tickets/Month for remote config changes (onsite support incurs additional fees)
(2) months rollover of support & device config allowances
Create firewall rules for connectivity between the monitoring system & SNMP devices
Graphical "Root-Cause Analysis" to quickly isolate cause of faults on complex networks (see infographics below)
Graphing provides visuals for analyzing reliability, performance, latency & capacity issues & trends
Alert messaging can be redirected to email, Jira, Slack, SMS, Telegram and other popular platforms off-hours
Staff training to operate the Zabbix monitoring solution
Support Channels: phone, Slack, Skype; others by prior arrangement
Single point of accountability for delivering results- there is no buck-passing
No Vendor Lock-in: Zabbix is Opensource and the client provided with monthly data backups. Clients are sold configuration & support services, NOT licensed software the fees for which can be later raised once a customer has committed to the software vendor. Clients are therefore insulated from the risk of future cost shocks.
Immunity from Vendor "Cancellation": Large companies are "cancelling" clients whose politics they don't like. Countries are "cancelling" other countries. India is being threatened with sanctions by the EU & US for violating Russia sanctions. If they do, Western companies outsourcing key IT services will be imperiled. Using Opensource for key services largely negates risk of business interruption due to politics & vendor "cancellation"
Service Costs:
Setup: £450 fixed fee covering the onsite install & config of service's hardware, (25) SNMP monitored devices, firewall changes, system users & other required localization of the Zabbix Server and related services.
Services: £50/month; min. (24) month contract.
Equipment: £800 pre-paid deposit for equip, of which £35 is deducted until balance zeroes at contract end
Total costs due at contract start: £1300. Thereafter, only £50/mo for months 2 through 24.
Please see "Selected Case Studies" > "eHealth Northern Nigeria" for examples of how Zabbix was employed to save the loss of a Data Center in Abuja, Nigeria
Below are (4) annotated specimen screen-shots from Zabbix's "Maps" feature. F1Linux has created the map of dependent relationships in Zabbix 6 and made annotated screen grabs of how Zabbix performs root-cause analysis of faults, negating the need for an engineer to troubleshoot, freeing them to move directly to fault resolution.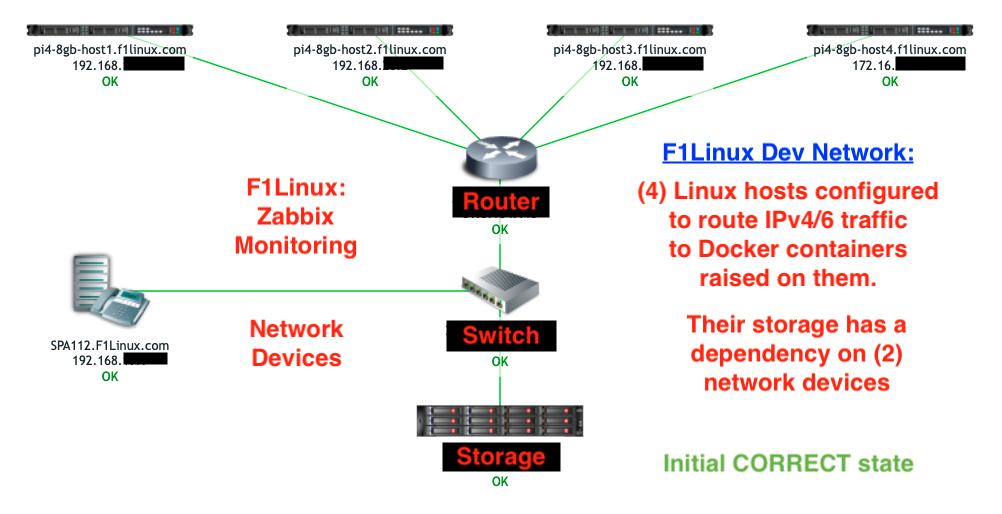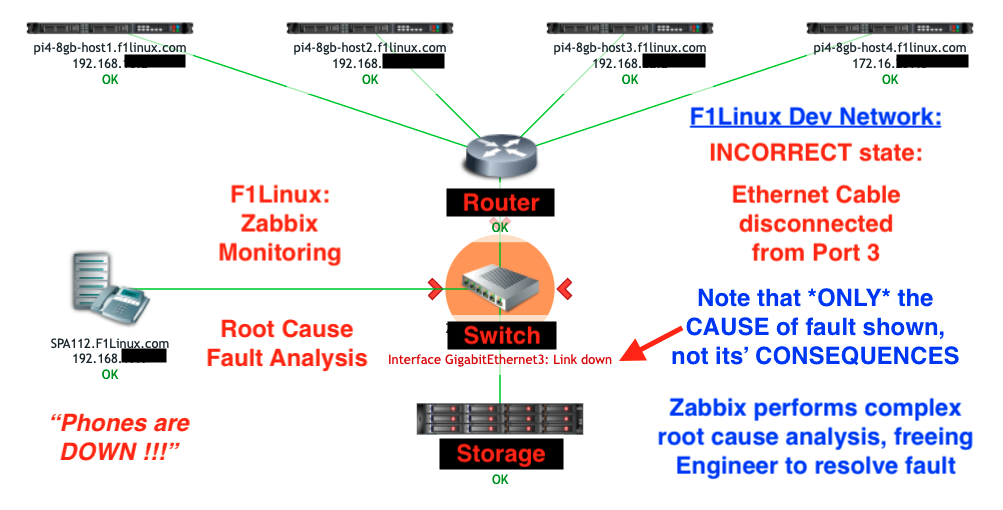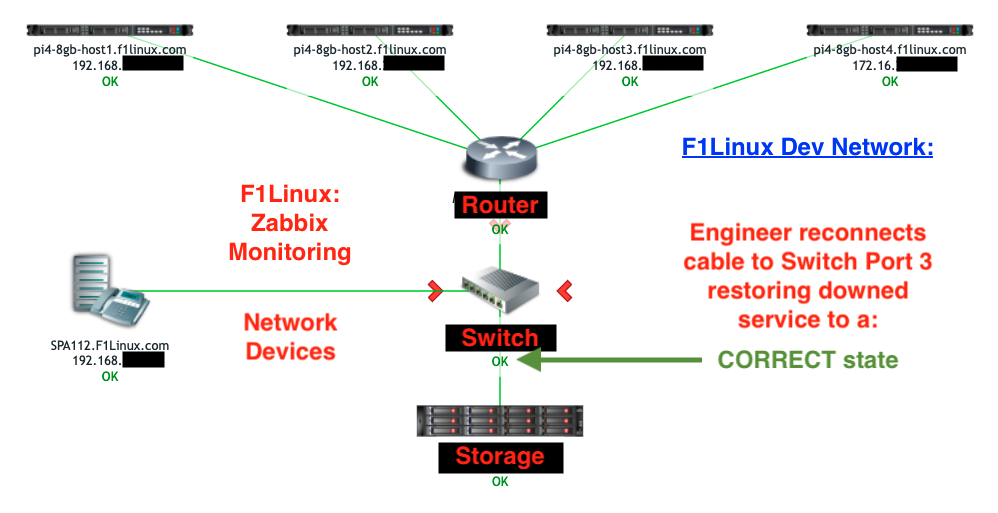 F1Linux has the proven JUDGEMENT & EXPERIENCE from 20+ years of working in the infrastructure engine rooms of large enterprises to identify risks and design appropriate monitoring tests to protect your service availability.
But the most important thing is TRUST. In order to configure monitoring, the contractor requires very wide access to your servers & network devices- inclusive of your firewall. Choose a contractor with a lengthy, proven large enterprise IT experience: F1Linux