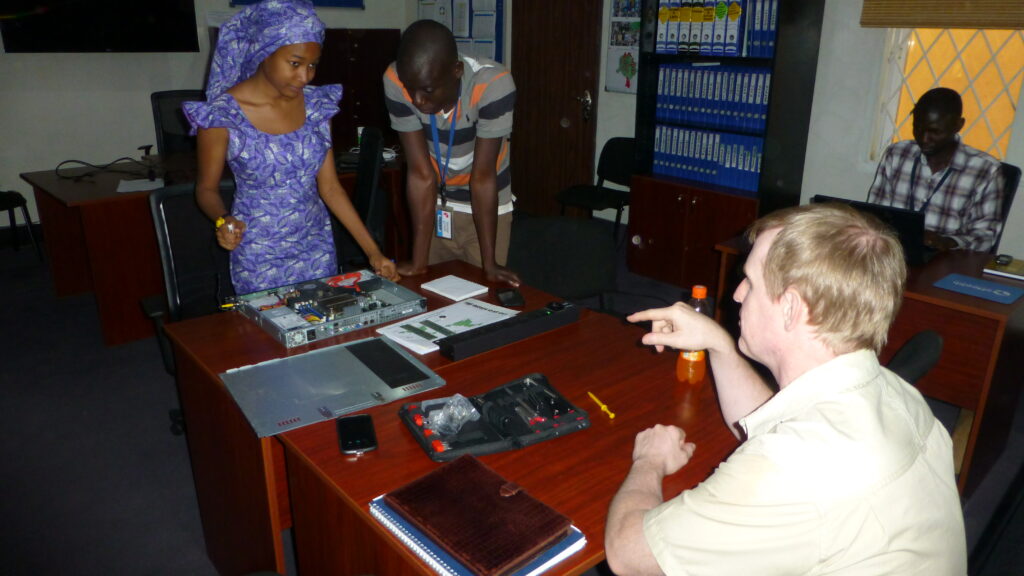 Performance Oriented IT Training
F1Linux's training is not lecture style, but Performance Oriented Training:  A key skill/concept is explained, then demonstrated and finally practiced using real-world scenarios on test systems by the trainees to reinforce their learning where they're able to make mistakes without risk to production systems. Unlike other enterprise IT training, staff will not be sipping coffee and reading news on their phones. 
Training is focused on enhancing functional competence and delivered by a Linux & Network engineer with 20+ years enterprise experience who understands the challenges of those working at the IT coalface. The focus is on enhancing practical skills, not merely theoretical knowledge like so much other training.
Training has been previously conducted with client staff in the UK, India & Africa.
Location: On-site or virtual
Scheduling: Full day classes or half-day sessions to allow staff to manage their functional responsibilities.
Class Size: (12) Staff- to allow for more individual help
Fees: £650 fixed-fee per training day for up to (12) staff.
ABOUT THE TRAINER:
Terrence Houlahan has 20+ years enterprise IT experience and has trained and mentored staff in India, Africa & UK.
He learned to be a trainer in US Army Special Forces where he taught US & foreign troops Engineering & Explosive Demolitions, topics which he was regarded as a subject matter expert.
Training Courses:
Git
Networking
Linux Fundamentals
Git
– Basic & Intermediate Git: (3) Day Course presented in (3) Modules with a Lab: Branching & Merging, Merge Conflicts and Reverting Changes.
– Advanced Git: (1) Day Course with Lab. Managing dependencies as libraries using Git subtrees.
Networking
Linux Fundamentals
Syngenta: Bracknell
Racing Post: 1 Canada Square
eHealth: Northern Nigeria
Syngenta: Bracknell
"I worked with Terrance [Houlahan] during the Linux Systems Administration & Postfix Application training he conducted for my team in Pune, India. Training was performance oriented where skills were taught, then demonstrated and finally practiced on training RedHat Linux VMs. By the end of the 3 month training I felt both very competent and confident managing our Linux systems. Sessions were 2 hours in length 3 days a week.
Terrence's training materials were excellent! His PowerPoint training decks included annotated screen grabs of all discussion examples and training exercises to illustrate key learning points. He even created a Postfix mailserver with SASL authentication that was routing mail for multiple domains to teach us not only how to modify, but also for practice troubleshooting. Terrence would break the server with increasingly complex faults and we would take turns identifying and resolving them. We would discuss the effectiveness of the staff member's troubleshooting approach as a group afterwards.
As training progressed, Terrance incorporated and reinforced earlier key skills and concepts with newer skills. After training, he mentored us during handover of the mail systems from the vendor previously managing them. I am looking forward to work with Terrance in future as well."
– Sumathy Angelin, Syngenta Technical Staff, Pune India (2018)
Racing Post: 1 Canada Square
eHealth: Northern Nigeria